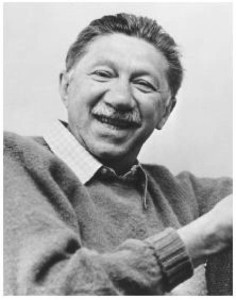 Born: Apr 1, 1908 in Brooklyn, NY
Died: June 8, 1970 (at age 62) in Menlo Park, CA
Nationality: American
Fields: Psychology
Famous For: Maslow's hierarchy of needs
Born to Jewish parents on April 1, 1908, in Brooklyn, New York, Abraham was the eldest of the seven siblings. His parents were uneducated and had migrated from Russia. They saw education as a route to advancement in the United States and placed great emphasis on their children's progress in school. Maslow was a lone child and spent his time with his books.
For the sake of his parents, Maslow first studied law at City College of New York, but ultimately focused on psychology. He was fascinated by the subject and therefore, when he moved to Wisconsin, he continued his studies in psychology. He was inspired by the ideas of mental health and human potential and studied extensively on the subject.
Early Career
Maslow received his BA in 1930, his MA in 1931, and his PhD in 1934 from the University of Wisconsin; all the degrees were in psychology. He taught as an assistant instructor at the university, and worked under psychologist Harry Harlow.
Maslow had his own ideas to understand the human mind, which he later referred to as the "humanistic mind." He was greatly influenced by the ideas and work of Harry Harlow, his mentor, Alfred Adler, and Max Wertheimer.
Maslow's Influences
Abraham Maslow began his career in academics, where he started teaching in Brooklyn College in 1937. He continued to work as a faculty member at the same college until 1951. Maslow began questioning the way most psychologists came to draw conclusions and he had his own ideas and though process about how to understand the human mind. He called his ideas and new discipline "humanistic psychology."
Maslow was hugely impressed by the works of anthropologist Ruth Benedict and psychologist Max Wertheimer. He admired both of them both professionally and personally. Both of them were not just successful in their area of work, but they were also very good human beings as well.
Maslow was inspired by such exceptional people and he started taking notes on their behavioral aspects. This formed the basis of his lifelong research and theories on mental health and human potential. He wrote extensively on these subjects and extended the work of many other psychologists in this area.
Contributions to Psychology
His theories, such as the hierarchy of needs, peak experiences, metamotivation, metaneeds and self-actualizing people, went on to became the foundation for humanistic psychology. While most psychologists focused on aspects of human nature or behavior that were considered abnormal, Maslow's work focused on positive sides of mental health.
Maslow's Publications
Maslow made significant contributions with his writings. His most famous books were Motivation and Personality, Farther Reaches of Human Nature, and Toward a Psychology of Being. He was also the co-founder of the Journal of Humanistic Psychology. In 1967, Abraham Maslow was awarded as the Humanist of the Year by American Humanist Association.
Personal Life
Abraham Maslow married his first cousin, Bertha Goodman, in 1928, and the couple raised two children. The marriage was against Abraham's parents' wishes. Maslow died of a heart attack in 1970.