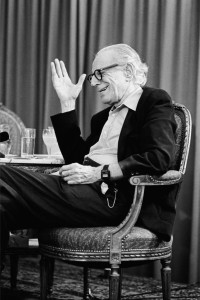 Born: Sep 23, 1913 in Pittsburgh, PA
Died: July 24, 2007 (at age 93) in New York, NY
Nationality: American
Fields: Clinical Psychology and Psychotherapy
Famous For: Rational Emotive Behavior Therapy (REBT)
Awards: Behavioral and Cognitive Therapies 2005 Lifetime Achievement Award, American Humanist Association 1971 award for "Humanist of the Year"
Albert Ellis was a famous American psychologist who is known for the development of Rational Emotive Behavior Therapy (REBT) in 1955. Born in September of 1913 in Pittsburgh, Pennsylvania, to a Jewish family, Albert Ellis was the eldest of the three children in the family.
Early Years
Albert's father was a businessman who often stayed away from home due to business trips and rarely showed any affection towards his children. Ellis's mother was also emotionally distant from her children and it was Ellis who took the responsibility of his younger brother and sister from a very early age.
Albert had a medically challenged childhood. He had to be hospitalized eight times between the ages of five and seven, mainly due to kidney-related disease and tonsillitis. He also underwent an emergency surgery at that age. Despite medical problems, Ellis's parents hardly showed any emotional support during those times and rarely visited him at the hospital.
Ellis was not the most outgoing child. He had a fear of public speaking during adolescence and he was very shy around girls. At the age of 19, Ellis faced his fears of speaking to women by forcing himself to talk to 100 women in the Bronx Botanical Garden over a month long period. While Ellis was not successful in getting a date, he desensitized himself to the fear of rejection by women. In this incident, Albert showed thought process similar to a cognitive behavioral therapist.
Contributions to Psychology
Referred to as one of the most influential and proactive psychotherapists in America, Albert Ellis made major contributions to the field of psychology. He started his career at the time when psychoanalysis and humanism were dominant clinical trends.
Because of his outspoken and self-promoting behavior, his ideas were often ignored and considered crazy. But that did not stop Albert. He went on to analyze and try to understand the nature of emotional and behavioral difficulties in childhood, which he believed, exerted its influence across a person's life span.
Albert Ellis's major contribution to the field of psychology was the introduction of Rational Emotive Behavior Therapy, or REBT. Developed in the 1950s, it challenged the deliberate, slow-moving methodology of Sigmund Freud, the prevailing psychotherapeutic treatment of that time. His ideas differed sharply from this Freudian-based treatment, and he believed that extended exploration and analysis of childhood experiences would lead patients to a better understanding of their problems.
Awards and Recognition
Ellis also contributed to the basis of cognitive behavior therapy, a form of treatment that is used to treat patients suffering from depression, anxiety and other conditions. For his major contributions to the field, Albert Ellis has received several awards from prestigious organizations, such as the American Humanist Association, the Society for the Study for Scientific Sex, the American Psychological Association, the American Academy of Psychotherapists and the Academy of Psychologists in Marital and Family Therapy.
Personal Life
Albert Ellis was also a lecturer and writer. He started lecturing in 1950s and continued his work until his death. He was the president of his institute- Albert Ellis Institute located in New York.