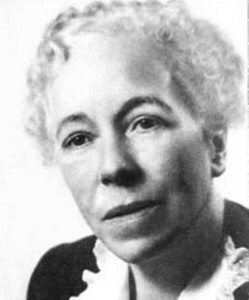 Born: Sep 16, 1885 in Blankenese, Hamburg, Germany
Died: Dec 4, 952 (at age 67) in New York City, NY
Nationality: German
Fields: Psychoanalysis
Famous For: Founded feminist psychology
Karen Horney was born to Clotilde and Berndt Danielson on September 16, 1885, near Hamburg, Germany. Her father was a ship's captain while her mother was an educated, more liberal, intellectual woman. Karen's father was a widower with four teenage children. Karen was the second child from his new marriage, the first born being a favored older brother. Karen became close to her mother as she did not get her father's love.
Horney's Early Years
Horney's father's unflattering remarks relating to her intelligence and looks led Karen to decide at age nine that if she was not to be cute, then she would be smart. She battled depression for the very first time and would continue to battle it for the rest of her life. At 13, Karen decided she wanted to be doctor – a high and perhaps not a realistic goal, especially for a young woman like her in the 19th century.
Educational Years
Without support from her parents, Karen entered medical school in 1906. While there, she met Oskar Horney, an aspiring law student. They got married and she gave birth to three daughters between 1910 and 1916. In 1911, she lost her parents and this resulted in difficulties in her life. These events were extremely hard for her. As a result, she entered the field of psychoanalysis. In 1915, Karen decided to follow Karl Abraham's analysis.
Career and Achievements
In 1919, Horney started to take patients for analysis and worked at Berlin Psychoanalytic Clinic and Institute until 1932. She helped design and ultimately directed the institution's training program, conducted psychoanalytic research, and taught students. In 1926, Oscar and Karen separated and divorced a few years later.
Karen's roles as a woman physician, mother, and wife motivated her research on female sexual development, writing articles about the castration complex in females and asserting, contrary to Freud, that a source of the penis envy was in the way a girl was treated by her parents at a young age.
Karen's differences with Freud began with her philosophy in the capacity for lifelong growth. Her differences with Freud and her concern over the rising of Nazism in Germany inspired her to accept an offer from Chicago Institute of Psychoanalysis. She and her three daughters went to the United States and just two years after she moved to Chicago, Karen relocated to New York to teach and train analysts. She worked at the New York Psychoanalytic Institute and the New School for Social Research.
Even after moving to the U.S., Horney's feud with Freud was far from over. She was forced to resign in 1941 from the New York Psychoanalytic Institute. The same year, she co-founded the American Journal of Psychoanalysis, or AJP. She also co-founded the Association for the Advancement of Psychoanalysis (AAP). In 1943, a dispute over accepting untrained medical analysts resulted in the resignation of her staff members. In 1952, her friends opened a clinic in her name. Karen Horney lost her battle with cancer the same year.
Contribution to Psychology
Karen Horney made important contributions to self-psychology, humanism, psychoanalysis and feminine psychology. Her denunciation of Karl Abraham's theories about females spawned interest in women's psychology.