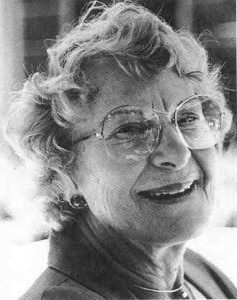 Born: June 26, 1916 in Nellsville, WI
Died: Sep 10, 1988 (at age 72) in California
Nationality: American
Fields: Psychotherapy
Famous For: Mother of family therapy
Virginia Satir was a renowned American author and psychotherapist who explored family therapy extensively and was labeled by many as the "Mother of Family Therapy." Satir advocated for individual realization of self-worth and dealing with blocked emotions. She also coined the Virginia Satir Change Process Model, which to date, is still being used in the clinical study of how change impacts different organizations.
Early Years
Satir was born in Neilsville, Wisconsin, on June 26, 1916, followed by four siblings. From a tender age, she was bright, warm, and very curious. At three years of age, she taught herself how to read and would later recount how she was determined to become a detective of family setups by the time she was five. This early interest in unearthing truth and family life drove her to curve one of the greatest names in family psychology.
In high school, Virginia proved very versatile as she took up as many courses as she could in order to complete her diploma early, while at the same time working part-time to pay for her schooling and upkeep. After high school, she enrolled at the Milwaukee State Teachers College (currently, University of Wisconsin) for her bachelor's degree in education and went on to become a teacher for six years.
Career as a Therapist
In 1948, Satir completed her master's degree and started a private practice. Not long after, she took up a job at the Illinois Psychiatric Institute and influenced other therapists in adopting family-related therapeutic treatments as opposed to individualized care.
By the end of the 1950s, she cofounded the Mental Research Institute in California where the first ever family therapy training started with Satir as the training director.
In the 1970s, Satir founded two groups – the International Human Learning Resources Network, and the Avanta Network (renamed to Virginia Satir Global Network). Both groups were aimed at helping mental health workers access necessary resources and support for their work.
Satir was later appointed to the International Family Therapy Association as a member of the steering committee and well as the National Council for Self-Esteem. Throughout her career, she used her extensive knowledge and experience to help individuals and families identify and overcome their issues, as well as deliver countless trainings and practicums on effective family therapy techniques.
Awards and Recognition
Her dedication and invaluable input saw her being recognized in several honorary doctorates, honors, and awards such as a gold medal from the University of Chicago for "Outstanding and Consistent Service to Mankind," an honorary doctorate in Social Sciences from the University of Wisconsin – Madison, and she was appointed a member of the Society of Nobel Peace Prize recipients, called the International Council of Elders.
Contribution to Psychology
Virginia Satir's singular approach to therapy has produced tremendous results to say the least. She held the notion that the treatment of the surface problem did not effectively tackle the issue at hand but intensified it. Satir proposed that a deeper understanding of the patient history and family background would reveal the true origin of the present issues.
Her 1964 publication, Conjoint Family Therapy, underlined the significance of self-worth, recognizing the value of personal feelings, and releasing blocked emotions.
Legacy and Death
Satir died at the age of 72 with a passion for life and over 3000 books in her personal library. Her cremated remains are buried at Mount Crested Butte in Colorado.