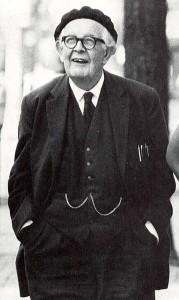 Born: Aug 9, 1896 in Neuchâtel, Switzerland
Died: Sep 16, 1980 (at age 84) in Geneva, Switzerland
Nationality: Swiss
Fields: Developmental Psychology
Famous For: Theory of cognitive development
Jean Piaget was a popular Swiss philosopher and developmental psychologist famous for his epistemological studies with children. He is best known for placing great importance on the children's education.
Early Years
Jean Piaget was born in 1896 in Switzerland. He was the eldest son of Arthur Piaget, a professor of medieval literature at University of Neuchatel. At an early stage, he developed a great interest in biology and the natural world. His interest in zoology earned him a reputation among the people in the field, especially after he published several articles by the age of 15.
Jean studied at University of Neuchatel. During his time in school, he published two philosophical papers that showed the direction of his thinking at the time. However, this was later dismissed as adolescent thought.
After his graduation, Jean moved from Switzerland to France where he became a teacher. Here, he assisted in making Binet's intelligence tests. While working, he never focused on the wrong answers given by the children, but rather noticed that the young children consistently made certain mistakes that older children and adults did not. With this in mind, he came up with the theory that young kid's cognitive processes are very different from those of adults. In 1921, he returned to Switzerland.
Contributions to Psychology
Jean Piaget wrote a book called Genetic Epistemology. Epistemology is a branch of philosophy that deals with nature, origin, extent and limits of human knowledge. In this book, he was interested in the nature of thought, how it develops, and understanding how genetics impacts the process.
In his early work where he discovered that young children think differently from adults, he suggested that children gained their knowledge through their experiences and interactions into groupings called "schemas." When a brand new bit of information is acquired, it can either be assimilated into the existing schemas or even accommodated via revising and existing schema or it can actually be by creating a totally new category of information.
Today, Jean Piaget is famous for his great research on children's cognitive development. He studied intellectual development of his three kids and came up with his own theory. This theory described the stages that children go through in development of intelligence and formal thought processes.
Piaget's Research Methods
Jean wanted to change the way research methods were conducted. He started researching with his colleagues by using a traditional method of data collection. However, he was not satisfied with the results and therefore tried other ways. He opted to use psychometrics, naturalistic observation, and psychiatric clinical examination. As he developed his new research methods, he wrote The Language and Thought of the Child.
Jean administered a test on 15 boys between the ages of 10 and 14. He asked the boys to describe the relationship between a bouquet of flowers with many colors and another with only one color. He wanted to analyze the thinking process of the children. Jean concluded that children and adults used speech for different purposes.
Piaget's Legacy and Influence
The magnitude of Piaget's influence can be felt worldwide. His theory of cognitive development has been influential in many different areas such as education and morality, development psychology, evolution, philosophy, artificial intelligence and primatology.
Personal Life and Death
In 1923, Jean married Valentine Chatenay. Together, they had three children. In 1979, he was awarded the Balzan Prize for the social and political sciences. On September 16, 1980, he died of unknown causes in Geneva. He was 84 years old.