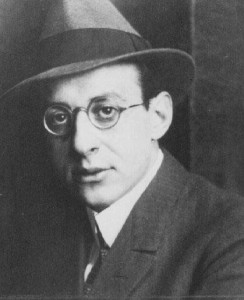 Born: July 8, 1893 in Berlin, German Empire
Died: March 14, 1970 (at age 76) in Chicago, IL
Nationality: German-Jewish
Fields: Psychotherapy
Famous For: Gestalt Therapy
Fritz Perls was a German-born psychotherapist and psychiatrist who later lived in the United States. He was the originator of the term "Gestalt therapy," used to refer to the school he led with his wife, Laura, in the years after World War Two.
Perls later formed a close relationship with the Esalen Institute in California. His name is best known outside the immediate sphere of psychotherapy for his "Gestalt prayer," in which Perls outlines his view of individualism. The prayer is sometimes referred to by its first line, "I do my thing and you do your thing."
Early Years
Perls was born in Berlin and spent a good part of his older childhood and young adulthood mixing with the bohemian set that was then significant in the German capital. He also took part in the Dadaist and Expressionist art movements at a time when the revolutionary left was gaining in power and influence.
His uncle, Herman Staub, had been a renowned lawyer and the young Fritz was widely expected to follow in his footsteps. Instead, however, he chose to study medicine. Called up to the German Army in World War One, he spent some time in the trenches, after which he graduated with a doctorate in medicine.
Early Career Years
While working as Kurt Goldstein's assistant, dealing with soldiers who had suffered neurological injuries during the war, Perls became increasingly interested in psychoanalysis. As a result, in 1927, he went to Vienna to join the technical seminars run by Wilhelm Reich.
The latter's notions of character analysis had a strong effect on Perls and after 1930, Reich acted as supervising senior analyst to Perls. At about the same time, Perls married, and he and his wife, Laura, had two children. By 1933, after Hitler had come to power, the Jewish Perls was feeling increasingly uncomfortable in his home country, and he fled with his wife to the Netherlands, which was then South Africa.
Later Career Years
In 1936, Perls met Sigmund Freud, although he was said to have been unimpressed by Freud as a person. In 1942, he signed up with the South African Army and reached the rank of captain while acting as a military psychiatrist. During the 1940s, he was also heavily influenced by Jan Smuts' theories of "holism" while also writing his first book in 1942.
This work, Ego, Hunger, and Aggression, was partly written by his wife, although she was not credited when it was published in the United States in 1947. By this time, Fritz and Laura had left South Africa for the U.S. and in New York, he was briefly reunited with Reich. He then spent time in Canada and working on a cruise ship.
Later Years and Death
Eventually, Perls settled down in Manhattan and wrote a second book, Gestalt Therapy. This appeared in 1941 and was written with the help of Paul Goodman, a prominent author and intellectual on the New York scene at the time.
The book was a success, and he traveled across the country giving workshops. Fritz Perls moved, without Laura, to Los Angeles in 1960, and three years later began running workshops at Big Sur's Esalen Institute, where he later lived in a house in the grounds. He incorporated ideas from Zen Buddhism into his practice and visited Japan. Perls suffered heart failure and died on March 14, 1970, in Chicago.