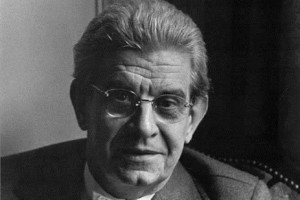 Born: April 13, 1901 in Paris, France
Died: Sep 9, 1981 (at age 80) in Paris, France
Nationality: French
Fields: Psychoanalysis
Famous For: Mirror Stage
Jacques Lacan has been referred to as the "French Freud" largely because of his extensive and compelling interpretation of Sigmund Freud's work. This French psychiatrist and psychoanalyst has researched, practiced, written and lectured extensively on psychoanalysis, following the footsteps of the founder of psychoanalysis, Freud.
Throughout his career, he explored in theory and practiced Freud's work and integrated this with other fields of knowledge in a bid to get Freudian concepts reintroduced.
Lacan's Early Years
Jacques Marie Émile Lacan was born on April 13, 1901, to a middle-class Catholic family in Paris. In school, young Lacan was an above-average student with exceptional brilliance in Latin and philosophy. He attended medical school and specialized in psychiatry in 1926 at Sainte-Anne Hospital.
After becoming an accredited forensic psychiatrist, he wrote a thesis in 1932 entitled De la Psychose paranoïaque dans ses rapports avec la personnalité, which was never published until 1975.
In 1934, Jacques Lacan married Marie-Louise Blondin and they had three children together. Official records show that Marie-Louise asked for a divorce after Lacan had a child with another woman – Sylvia Bataille. Lacan married Sylvia in 1953.
Lacan's Career
After earning his medical degree in 1932, Lacan practiced psychiatry and psychoanalysis for most of his career. Although he spearheaded the introduction of Freud's theory into France, it was not until the 1950s that he started marking his mark significantly.
In 1951, he began holding private weekly forums in Paris to advocate for Freudian theory. Two years later, these seminars turned into public lectures that would run for the next 27 years. It is these lectures that developed him into an influential voice in the cultural life of Paris, psychoanalysis, and clinical psychology.
The reception of Freudian concepts together with his report The Function and Field of Speech and Language in Psychoanalysis was good, and Jacques Lacan sought to extend these concepts and integrate them with linguistics, ethnology, contemporary philosophy, biology and topology. He would continue to write compelling reports on psychoanalysis and in the early 1960s, his audience had grown tremendously such that he decided to split them into groups.
The audience comprised of colleagues and students alike were divided into pure psychoanalysis for theoretical training, applied psychoanalysis for clinicians, and analysis of Freudian literature in relation to other sciences.
Lacan's Contribution to Psychoanalysis
Lacan not only interpreted Freud's work, but went further to integrate psychoanalysis with other disciplines. In his clinical practice, he was known for unorthodox therapeutic methods which formed the basis for the empirical evidence in his reports.
Between the 1960s and 70s, Jacques Lacan became a dominant figure and influenced many French intellectuals. Some of his most notable ideas include The Graph of Desire, The Mirror phase, Triadic phase, The Symbolic, The Real, and The Imaginary; ideas that until today influence the study and practice of psychoanalysis.
From 1974, he studied the intersection of topology, mathematics and psychoanalysis using very complex methodologies that even loyal supporters began to question the clinical practice of this education.
By the time he died in 1981, he had gained worldwide esteem and left a profound effect on the study and practice of psychoanalysis, philosophy, film studies, and literature among others.