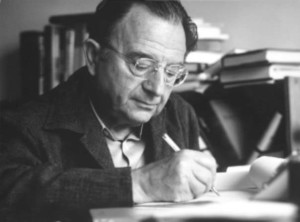 Born: March 23, 1900 in Frankfurt am Main, Germany
Died: March 18, 1980 (at age 79) in Muralto, Ticino, Switzerland
Nationality: German
Fields: Psychology
Famous For: Co-founder of the Frankfurt School of critical theory
Erich Fromm was a German psychoanalyst, humanistic philosopher, democratic socialist and most importantly, social psychologist. This 20th century psychologist was associated with the famous Frankhurt School of Critical theory and best known for his concept that depicted freedom as one of the most fundamental parts of human nature.
Fromm's Early Life
Erich Seligmann Fromm was born in Frankfurt, Germany, on March 23, 1900, as the only child to his Orthodox Jewish parents. According to Erich, his father, a businessman, was rather moody, something that made his mother frequently depressed. This kind of lifestyle led Erich to describe his childhood as highly neurotic.
Educational Years
Erich was influenced by the commencement of World War I at the age of 14 and this spurred his interest in the behavior of groups. As such, he began reading write-ups of great thinkers like Karl Marx and Sigmund Freud in a bid to find answers. Erich attended the University of Heidelberg to study sociology where he completed his doctorate in 1922 under Alfred Weber's supervision.
In 1924, he joined the University of Frankfurt to study psychoanalysis and later moved to the Berlin Institute of Psychoanalysis. Erich married Frieda Reichmann who was 10 years older than him. They divorced four years later.
Fromm's Career
Erich maintained a very busy career throughout his life. This included a variety of teaching positions on top of publishing several books and running a private clinical practice. He also helped in founding the Frankfurt Psychoanalytic Institute, an institution he served as a lecturer from 1929 to 1932. This is the institute that later became to be known as the Frankfurt School of Critical Theory, widely known and dedicated to Marxist interdisciplinary social psychology.
In 1933, when the Nazis rose to power, Erich fled to Geneva, Switzerland, and later moved to New York, where he worked at Columbia University until 1944. In the United States, Erich taught at numerous schools such as the New School of Social Research. He came into contact with a new school of analysts and sociologists, including Karen Horney, who is a famous German psychoanalyst, well-known for questioning and revising Freudian theories.
During his stay in the United States, Erich established the William Alanson White Institute of Psychiatry, Psychoanalysis and Psychology and taught at Yale University. He also served as a faculty member at the Bennington University from 1941 to 1950.
Erich later moved to Mexico where he became a professor at the National Autonomous University of Mexico, Frotera. He headed the psychoanalysis department at the university from 1955 to 1965 and also visited New York University and the University of Michigan as a professor. He even lectured at the Mexican Society of Psychoanalysis and in 1974, he moved to Muralto, Switzerland, where he remained until his death in 1980.
Contributions to Psychology
Today, Erich Fromm is regarded as one of the most important psychoanalysts of the 20th century. He was a fierce social critic, well-known for writing extensively on political philosophy. Erich was critical of numerous ideas of Freud including his theory about the Oedipus complex, the libido theory, and the life and death instincts.
Fromm's Publications
Escape from Freedom and Man for Himself, both Fromm's famous works, combine elements of psychology and philosophy, laying out the foundation for political psychology. Other works include The Art of Loving (1956), Zen Buddhism and Psychoanalysis (1960), Marx's Concept of Man (1961), Socialist Humanism (1965), The Nature of Man (1968), and The Crisis of Psychoanalysis (1970).