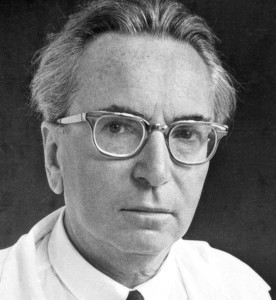 Born: March 26, 1905 in Leopoldstadt, Vienna
Died: Sep 2, 1997 (at age 92) in Vienna, Austria
Nationality: Austrian
Fields: Psychiatry
Famous For: Founder of logotherapy
Awards: Austrian Decoration for Science and Art (1981), Grand Decoration of the Austrian Chamber of Physicians (1995)
Viktor Frankl is best known for his compelling memoir Man's Search for Meaning, which depicted the horrific yet inspirational experience of a holocaust survivor. Over 9 million copies of this book have been sold in the USA alone.
In the abject atrocities and distress of the Auschwitz death camp, Frankl explains that he still exercised the freedom to determine his attitude, transcendent welfare, and inherent security. He drew his strength for survival from inner purpose, love, and courage in the face of tribulation. After detention, he went on to become a renowned neurologist, psychoanalyst, and the founder of existential analysis and logotherapy.
Early Life
Viktor Emil Frankl was born in Vienna on March 26, 1905, into a Jewish family. In school, he showed keen interest in philosophy and went on to study medicine at the University of Vienna. He focused on subjects like neurology and psychiatry and particularly depression and suicide.
As a medical student and the president of a youth movement in Austria, he organized free counseling of high school students between 1928 and 1930 with outstanding results. During his residency at Steinhof Psychiatric Hospital, Viktor Frankl successfully treated thousands of suicidal cases and set up a private practice in Vienna thereafter.
During the Nazi Occupation
In the course of the Nazi regime, the hospital in which he was the head of neurology became the only one treating Jewish patients. A year after he married Tilly Grosser, they were extradited to a Nazi ghetto in 1942 where he continued to work as a prisoner therapist and helped incoming prisoners deal with shock and distress.
Viktor Frankl conducted numerous lectures on psychology, psychotherapy, mental and spiritual wellbeing, among others during this time. When he and his wife were transferred to the Auschwitz concentration camp, his life and work changed significantly. He worked as a slave laborer and was later set free by Americans in 1945.
Frankl was separated from his wife, who died at a different concentration camp. His father died of illness in the camps, his mother was killed in the gas chambers, while his brother died working as a slave miner. Only his sister survived and escaped to Australia. He remarried in 1947 and fathered one daughter.
Life after Detention
Viktor Frankl embarked on his bestseller Man's Search for Meaning in which he described in fine details the life of an inmate in the concentration camp as seen through the eyes of a psychiatrist. His conclusion was remarkable; that even in the most dehumanizing conditions, life and pain have meaning.
Contributions to Psychology
This surmise became the foundation of his concepts – logotherapy and existential analysis. His detention experience subsequently molded his entire approach to psychotherapy and philosophy. Existential therapy placed emphasis on present and future choices, and that existence is not determined by destiny or fate, but rather coincidence. This school of thought helps patient conquer anxiety and live each moment in perpetual freedom.
Between 1946 and 1970, Viktor Frankl was the director of the Vienna Neurological Policlinic. His prominence allowed him to become a visiting professor at Harvard and several other universities in the US and conduct lectures in over 200 universities on five continents. He has written 39 books, which until 2011, had been published in 40 different languages.
He died of heart failure in Vienna at the age of 92.