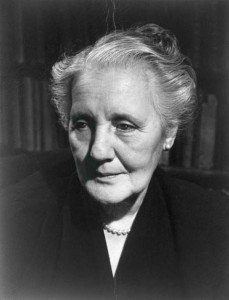 Born: March 30, 1882 in Vienna, Austria-Hungary
Died: Sep 22, 1960 (at age 78) in London, England
Nationality: Austrian-British
Fields: Psychoanalysis
Famous For: Object Relations Theory
Melanie Klein was a famous British psychoanalyst who devises novel therapeutic techniques among children.
Early Years and Personal Life
Melanie was born on March 30, 1882, in Vienna, Austria. Initially, she wanted to go to medical school. When she turned 19, Melanie married Arthur Klein and together they had three kids. Her family traveled frequently due to her husband's job, but eventually settled in Budapest in 1910. In 1914, she got her third child called Eric.
Generally, Melanie's life was actually full of many tragic events. She was allegedly a product of unwanted pregnancy and therefore received little affection from parents. Her elder sister passed away when she was only four years old, and she was even made to feel very responsible for the death of her father. Her marriage was not successful and later her young son died in a climbing accident.
Klein's Career
During her stay in Budapest, Klein worked as a psychoanalyst and started analyzing young children in 1919. Actually, two of the first children she tried to analyze were her own son and daughter. She later moved to Berlin in 1921 where she decided to study together with Karl Abraham.
Abraham supported all pioneering work with young children but her ideas never received any support in Berlin. After a while, a British psychoanalyst named Ernest Jones was very impressed by her work and invited Klein to go to London. In 1926, she took him up on the offer and moved to London. She remained there until her death in 1960.
Melanie Klein had a great influence on theory plus technique of psychoanalysis, especially in Great Britain. Getting into this profession was quite tough since she was divorced and did not even have a bachelor's degree. However, despite the challenges, she still managed to be a successful psychologist.
Contributions to Psychology
Melanie was the first person to make use the method of traditional psychoanalysis with children. She was very innovative in her techniques and her theories about infant development. She even managed to establish a popular training program about psychoanalysis. She is in most cases considered one of the co-founders of the object relations theory.
Melanie's theoretical work includes Freud's belief in existence of death instinct. This reflects the fact that all the living organisms are drawn towards an inorganic state and thus, contains drive towards death. Anna Freud and Klein both regarded this along with the life force as foundations of psyche. Basically, these were the human drives, all unrelated to animal instincts of the ethology.
Melanie Klein ideas were mostly inspired by working directly with young children, in most cases as young as two years old. Melanie saw kid's play as their mode of emotional communication. After taking time to observe troubled kids play with their toys, such as animals, plasticine, dolls, pencil and paper, Melanie attempted to get the real meaning of play.
Klein conflicted with Anna Freud on different theories about young children. Many controversies rose from the conflict and battles were played between the two sides, each giving scientific proof. Today, Klein psychoanalysis is one amongst main schools within psychoanalysis.