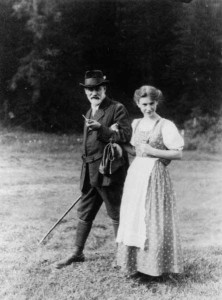 Born: Dec 3, 1895 in Vienna, Austria
Died: Oct 9, 1982 (at age 86) in London, England
Nationality: Austrian
Fields: Child Psychoanalysis
Famous For: Co-founder of psychoanalytic child psychology
Anna Freud was a famous psychologist who is in most cases considered one of the founders of psychoanalytic child-psychology.
Anna's Early Life
Anna was born on December 3, 1895, in Vienna. She was the sixth and the last child of the famous Sigmund Freud. Anna's childhood was not a very happy one. It is said that she never had a close relationship with her own mother and actually had many challenges getting along with her siblings, especially her sister, Sophie.
Sophie was the much more attractive child and this represented a great threat in the struggle for their father's affection. Anna may even have suffered from depression which led to eating disorders. However, the relationship between Freud and her father was totally different; they were great friends.
Anna Learns from Her Father
In her later years, Anna said that she never learned much during her schooling, but rather she learned from her dad and his many guests at home. In the process of learning from her father, she learned to speak German, Hebrew, Italian, English and French. At only 15 years old, she began reading some of her father's works.
In 1912, she traveled to Italy and later to England. In 1914, she passed her test to become a trainee at an old school. Between 1915 and 1917, she worked as a trainee and later a teacher between 1917 and 1920. She later left teaching and in 1918, her father began psychoanalysis on her. Anna's analysis sessions ended in 1922. The next year, she started her psychoanalytical practice with young children.
Anna's London Years
Due to the rising harassment of Jews by Nazis, Anna Freud fled to London. The war gave Anna a chance to keenly observe the severe effects of deprivation of the parental care on young children. She decided to set up a center for child war victims. Later, Anna published a series of studies on the great effects of stress on young children.
Contributions to Psychology
In her very first book, Introduction to Technical Child Analysis, Anna explained her views on child development. While she was heavily influenced by her dad's work, she was far from living in his shadow. Anna's works expanded upon her father's ideas and also created the basis for the field of child psychoanalysis.
Focusing her research on observation plus treatment of young children, Anna established a group of child development analysts who noticed that children's symptoms were actually related to the personality disorders among grownups and therefore often related to the development stages.
In one of her books, Normality and the Pathology in Childhood, published in 1965, she summarized the study of child psychology. She also developed different techniques of treating young children that are still relevant today.
Work in Ego Psychology
Anna Freud wrote the book The Ego and Mechanism of Defense. In this book, she clearly described how defenses work, including some special attention to adolescents' use of defense. Her focus on ego basically began in psychoanalytic circles called ego psychology.
Later Life and Death
From the 1950s until her death, Anna traveled several times to different places in U.S to lecture and visit friends. Anna Freud died on October 9, 1982 at the age of 86. She was cremated and her ashes were placed next to her parents. A year after her death, several of Anna's collected works started to get published.