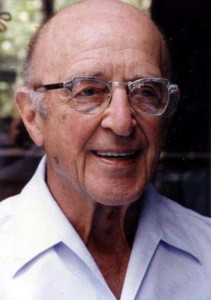 Born: Jan 8, 1902 in Oak Park, IL
Died: Feb 4, 1987 (at age 85) in San Diego, CA
Nationality: American
Fields: Psychology
Famous For: Person-centered approach
Awards: 1964 Humanist of the Year from the American Humanist Association, APA Award for Distinguished Scientific Contributions to Psychology (1956)
Carl Rogers was one of the originators of the humanistic approach to psychology and is also credited with participating in the founding of psychotherapy research in general. The humanistic approach is sometimes referred to as client-centered. This person centered approach was his distinctive way of understanding human relationships as well as individual personalities.
His theories were used in a wide array of areas including education, counseling and psychotherapy. Through his global efforts with the Rust Peace Workshop, Rogers was nominated for a Nobel Peace Prize in 1987. He was an American psychologist exerted much influence and was regarded with great esteem.
In a study conducted by Steven Haggbloom in 2002 entitled "The 100 Most Eminent Psychologists of the 20th Century," Rogers was ranked sixth. The criteria for the list included citations and recognition. As a clinician, he was listed second, with only Sigmund Freud being considered his superior in the field.
Rogers's Early Years
Carl Ransom Rogers was born on January 8, 1902, in the Chicago suburb of Oak Park, IL. Carl was the fourth child of six that would be born to his father, Walter, a civil engineer and his stay-at-home mother, Julia (maiden name Cushing), who was a devout Pentecostal.
As a result of his mother's strong Christian beliefs, Carl at one time considered the ministry and entered the seminary. Subsequently, he began to question his own religious convictions and departed the institution. He enrolled in the Teacher's College at Columbia University in New York where he received a Ph.D. in 1931.
As part of his studies at Columbia, he became involved with the Society for the Prevention of Cruelty to Children and began writing about that subject as well as the client centered approach in general.
Rogers's Theories and Contributions
Carl Rogers's humanistic and phenomenological theory is based on the phenomenal field personality theory of Arthur Combs and Donald Snygg which was first introduced in 1949. Rogers expanded on their thoughts while authoring numerous journal publications and 16 books on this subject matter alone.
Selected works by Rogers ranged from Clinical Treatment of the Problem Child in 1939 to A Way of Being in 1980. The basic premise to his studies was that the humanistic approach to therapy and scientific evaluation of the results need not be mutually exclusive.
This theory was based on 19 propositions which included one's self concept, the fully functional person, and actualizing tendencies.
Types of Therapy Introduced
His primary practice revolved around Person-Centered Therapy and Learner-Centered teaching. Person-Centered Therapy is also now known as Rogerian psychotherapy. The quest here is for the patient to realize their true positive potential by first identifying how their behavior, feelings, and attitudes are being affected by negative reinforcements. This is a non-direct approach employing genuineness and empathy.
Student-Centered learning concentrates on the specific students' needs rather than those of the teacher and a set curriculum. For Student-Centered learning to be successful, the pupil must be willing to actively participate in the process.
Later Years and Death
Carl Rogers passed away on February 4, 1987, in San Diego, CA at the age of 85. He had relocated to La Jolla in the mid 1960s. He died after suffering a fractured pelvis as the result of a fall a few days prior. His Noble Peace Prize nomination arrived just a few days after his passing.