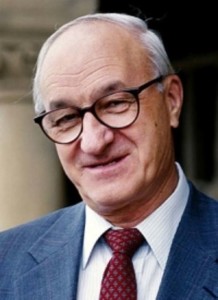 Born: Dec 4, 1925 in Mundare, Alberta, Canada
Nationality: Canadian-American
Fields: Psychology
Famous For: Social learning theory
Awards: Award for Distinguished Scientific Contributions from the American Psychological Association, Lifetime Achievement Award from the Association for the Advancement of Behavior Therapy
Albert Bandura is one of the most renowned psychologists in history. He was born in 1925 in Mundare, Alberta, Canada, which is a small town of less than 400 people, many of which were immigrants from Ukraine and Poland. He was the youngest child and the only boy among six kids in his family of European descent.
Bandura's father was an immigrant from Poland and his mother was from the Ukraine. Bandura's parents were very hardworking and self-learned. His father worked in the trans-Canada railroad, while his mother worked in a general store.
Bandura's Education
While Bandura's parents had no education, they placed a high value on what they missed. Bandura's education was practical since the school he attended had only two teachers and did not have many resources for educational materials. The two teachers had to teach the entire school.
He saw this as an opportunity since he was forced to depend on his own curiosity as well as the world around him to get the concepts that would serve to enhance his knowledge. Bandura soon became interested in psychology after he enrolled at the University of British Columbia.
Interest in Psychology
Bandura's interest in psychology formed accidentally. While working during the nights and going to school the next morning, Bandura found himself arriving at school earlier than his courses began. To kill time, he started taking filler classes during early morning hours. This is what led to him eventually stumble upon psychology.
In 1949, he earned his B.A. from the University of British Columbia. He went to the University of Iowa where he received his M.A degree in 1951 and his Ph.D. the following year. Upon graduation, he did a clinical internship at Wichita Kansas Guidance Center.
Bandura's Career
After obtaining his Ph.D., Bandura was offered a job at the Stanford University. He accepted the offer even though it meant giving up a position he had accepted earlier. He has continued to work at Stanford University to date. It was during his studies on teen aggression that he became interested in vicarious learning, modeling, and imitation.
Bandura's Theories and Studies
Bandura's social learning theory stressed the significance of vicarious learning, imitation and modeling. He stated that learning would be extremely laborious, not to mention perilous, should we rely only on the effects of our own actions to tell us what to do. His theory combines a continuous interaction between cognitions, behaviors, and the environment.
Amongst his popular experiments is his 1961 study with Bobo dolls. In one experiment, he showed a video to kids in which a woman was beating up a doll while calling it names. He then allowed the children to play in the room that held a Bobo doll. The kids started to beat the doll, emulating the same actions and words of the adult in the film.
Bandura then studied the disparities between how female children and male children reacted to the video in regard to whether they emulated the behavior or not. He found that males imitated the behavior more than the females.
Contribution to Psychology
The work of Albert Bandura is regarded as part of the cognitive revolution in psychology that started in the 1960s. His theories have had a great impact on cognitive psychology, personality psychology, education and psychotherapy. He has published many books that explore self-efficacy, social cognitive theories, self-organization and regulation. He has won numerous awards, including the Grawemeyer Award in Psychology.