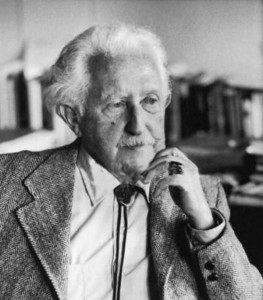 Born: June 15, 1902 in Frankfurt am Main, Germany
Died: May 12, 1994 (at age 91) in Harwich, Cape Cod, Massachusetts
Nationality: German
Fields: Developmental Psychology
Famous For: Theory on social development
Erik Homburger Erikson was a psychologist and psychoanalyst born in Germany. He is best known for his theory on the psychological development of human beings. He may be best known, however, for coining the famous phrase "identity crisis." Although Erikson did not have a bachelor's degree, let alone a Ph.D., he served as a professor at high-end institutions such as Yale and Harvard.
Early Life
Erik Erikson was born in Frankfurt, Germany, on June 15, 1902. His lifelong interest in the idea of the "psychology of identity" can be trace to his birth as the circumstances of his birth were hidden from him during his childhood. His mother and father separated before his birth but the fact that he was his mother's child from an extramarital affair was concealed from him. According to an obituary that appeared in the New York Times (1994), Erikson never saw his mother's first husband nor did he ever meet his birth father.
Erikson's young Jewish mother, Karla Abrahamsen, raised him all by herself for many years until he married Dr. Theodor Homberger, a physician. When he was finally exposed to the truth about his biological father, he was left confused about who he really was. This experience ignited his strong interest in the formation of identity.
His interest in identity further developed on the foundation of his experience in school. In school, other children teased him for being a Nordic as he was tall, blonde, and blue-eyed. At grammar school, Erikson was rejected due to his Jewish background. These experiences fueled his interest in identity formation and they continued to influence his career work throughout his life.
Erikson's Educational Years
Erikson studied and taught arts. While teaching at a private institution in Vienna, he got acquainted with Anna Freud, Sigmund Freud's daughter, who suggested that he should undergo psychoanalysis. After the experience, he decided to become an analyst and so he trained and attained a certificate in psychoanalysis from the Vienna Psychoanalytic Institute. He also attended the Montessori Method of Education, focusing on child development and sexual stages.
Career Years
In 1933, Erikson moved to the United States where he took a position as a teacher at the Harvard Medical School. Additionally, he also had a private practice in child psychoanalysis. While in the US, he changed his name form Erik Homberger to Erik H. Erikson in an attempt to forge his own identity.
Later, Erikson moved to the University of California at Berkeley where he taught. He also took teaching positions at Yale, Austen Riggs Center, the San Francisco Psychoanalytic Institute and the Center for Advanced Studies of Behavioral Sciences.
Erikson's Published Works
Erikson published several books on his research and theories such as, The Life Cycle Completed and Childhood and Society. One of his books, Gandhi's Truth, was awarded a national book award and a Pulitzer Prize. Some of his other publications include Identity: Youth and Crisis (1975), Life History and the Historical Moment (1996) and others.
Contributions to Psychology
Erikson spent a great deal of time studying the cultural life of Sioux of South Dakota as well as Yurok of northern California. Using the knowledge he had accrued about cultural, social and environmental influences, he further developed his theory on psychoanalysis. He also largely helped our comprehension of personality, its development and how it is shaped over one's lifetime.