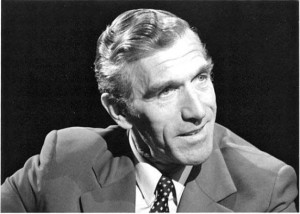 Born: July 25, 1921 in Villach, Austria
Died: March 31, 2007 (at age 85) in Palo Alto, CA
Nationality: Austrian-American
Fields: Family psychologist
Famous For: Communication theory
Paul Watzlawick was an Austrian-American philosopher and psychologist. As a theoretician in radical constructivism and communication philosophy, Watzlawick has worked in family therapy and general psychotherapy. He was also among the most influential figures at the Mental Research Institute.
Watzlawick's Early Life
Paul Watzlawick was born on July 25, 1921, in Villach, Austria. In 1949, he obtained his doctorate in modern languages and philosophy at the University of Venice. He then trained in psychotherapy at the Carl Gustav Jung Institute in Zurich and attained a diploma the following year.
Cultivating a passionate interest in Buddhist philosophy, especially for Zen philosophy, Paul went to India where he lived for one year. Philosophical concepts of oriental philosophies infused in his works without reducing his scientific rigor, enabling him to occasionally explain parts of his theories.
Career in Psychology
In 1957, Watzlawick taught psychotherapy at the University of El Salvador and at Temple University in Philadelphia. In 1960, he enrolled in the Institute for Direct Analysis where he studied John Rosen's therapeutic approach. He met Don D. Jackson, the founder of the Mental Research Institute, during the conference where he was presenting his family therapy approach.
Jackson was regarded as one of America's top psychiatrists because of his contribution with John Weakland and Gregory Bateson to the understanding of the schizophrenia's pathogenesis.
Watzlawick was welcomed by Don D. Jackson to study the work done by the Palo Alto group. Unfortunately, the Mental Research Institute had no funds for new researchers. So Watzlawick was allowed to conduct his research whenever he wanted but at his own cost. After three months, Watzlawick obtained a place where he worked with Don D. Jackson's and Gregory Bateson's group studying pragmatic human communication.
Watzlawick's Theories and Axioms
Throughout his career as a psychologist, philosopher, and communications theorist, Watzlawick worked to clarify the methods behind human communication. He grouped interpersonal communication into criteria which would be enabled for further study. They came to be known as axioms.
Watzlawick developed five axioms regarding interactional communication. His first axiom says human beings communicate all the time even when they try not to. This axiom leads to the second axiom which gives a deeper examination into the two main methodologies human beings communicate.
The second of his axioms concerns a relationship between digital and analog or the verbal and nonverbal content of communication. Everyone responds to the content of communication in a context of a relationship between the communicators. In the third axiom, Watzlawick states that the nature of the relationship depends largely on the punctuation of the communication processes of the partners.
In the fourth of Watzlawick's axioms, human communication entails both analogical and digital modalities. The last axiom states that inter-human communication processes are either complementary or symmetric depending on whether the partners' relationship is based on dissimilarities or parity. A symmetric relationship simply means one in which the people involved behave as equals from the power point of view, while a complementary relationship means that of unequal power, such as parent-child, leader-follower, or boss-employee.
Contributions to Psychology
Paul Watzlawick is one of the most influential figures in the fields of communication and constructivist philosophy as well as family therapy. Throughout his career, he wrote many books including Insight Causes Blindness and The Situation is Hopeless.