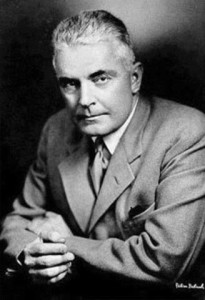 Born: Jan 9, 1878 in Travelers Rest, SC
Died: Sep 25, 1958 (at age 80) in New York City, NY
Nationality: American
Fields: Psychology
Famous For: Behaviorism
John B. Watson was one of the most popular psychologists with a career that the fields of psychology, behavioral psychology and experimental psychology. John was born in 1878 to Pickens and Emma Watson in Travelers Rest, South Carolina.
Early Years
John's mother was extremely religious, but his father was a heavy drinker and was always in trouble with the law. Sadly, John grew close to his father and found himself often getting into trouble while modeling the behaviors of his father. As he was growing up, his father started cheating on his mother and it resulted in their separation just after John turned 13.
Educational Years
John's family problems had negative impacts on him. His motivation for education declined significantly. He assaulted other children in school and provoked his teachers during class. However, his attitude towards education and his view on life changed when he earned acceptance at the University of Furman at age 16. Much credit should be given to his mentor, Gordon Moore, who introduced him to psychology. Five years later, John graduated with a Masters Degree from Furman University.
Watson then went to Chicago University where he developed an interest in psychology. It only took him three years to major in neurology and psychology. At age 25, John earned his Ph.D. in which he did a dissertation on the relations between behavior in white rats and the development of its nervous system.
Watson's Career Years
John then stayed at Chicago University as a teacher. After one year at the University, he married one of his students, Mary Amelia. They had their first child, Mary, in 1905. Some years later, they gave birth to their second child which they named John.
Watson left the university to further his career at Johns Hopkins University in 1908. At age 29, he started teaching psychology at John Hopkins University. At age 31, he became a director of psychology at the school. While teaching psychology at the university, he established his own laboratory where he ran a number of psychological experiments. It was here that he produced some of his best accomplishments.
In 1913, John published an article entitled Psychology as a Behaviorist Views It, in which he states his beliefs that psychology is the science of human behavior. According to John, psychology ought to be the science of observable behavior. John explained that his idea is an experimental branch of science. He further explained that introspection does not form an important part of its method. After revealing his philosophy about behaviorism, John was elected president of the American Psychological Association in 1916.
Contributions to Psychology
John Watson did set a platform for behaviorism, which later rose to dominate the field of psychology. Although behaviorism started losing ground after 1950, most of his principles are still being utilized today. Conditioning as well as behavior changes are still used in therapy and behavioral therapy to help the patients change their problematic behaviors.