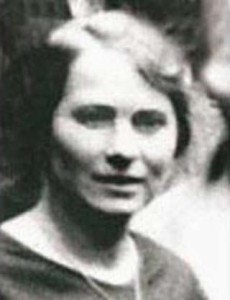 Born: Nov 7, 1885 in Rostov-on-Don, Russian Empire
Died: Aug 12 or 14, 1942 (at age 56) in Zmievskaya Balka
Nationality: Russia
Fields: Pysychoanalysis
Famous For: Studies on sexual drive
Sabina Spielrein was a Russian physician and a psychoanalyst. She has worked with other great psychoanalysts such as Sigmund Freud and Jean Piaget. Basically, she was the first woman to write a psychoanalytic dissertation.
Early Life
Sabina was born on November 7, 1885, in Russia. She was born into a rich Jewish family. Her father was a successful businessman and her mom was a dentist. Her maternal grandfather and great-grandfather were rabbis who arranged her mother's marriage to her Jewish father. Sabina grew up in a very strict household that was at times even abusive. Her parents placed great emphasis on education and Sabina grew up speaking German, Russia, English and French.
Spielrein and Jung
At the age of 19 in 1904, Sabina was admitted to Burgholzli mental hospital in Switzerland. She was apparently suffering symptoms of what was known as hysteria. In the hospital, she became a patient of Carl Jung, a psychoanalyst. She remained in this hospital until 1905.
Sabina was the reason Jung reached out for Sigmund Freud. Jung had already learned more about Freud's techniques and in 1906 he wrote a letter asking him for advice about the challenging case involving Sabina. This led to a friendship between the two and Jung frequently corresponded with his colleague about Sabina. Sabina soon became Jung's laboratory assistant and then later joined medical school where she studied psychiatry.
Spielrein's Career
In 1911, Sabina Spielrein graduated from medical school and started her own practice. She moved to Vienna, Austria, in 1911 and became a member of the Vienna Psychoanalytic Association. She got married in 1912 to Pavel Scheftel, who was a Russian physician. Together, the couple had two daughters.
Sabina worked in Germany and Switzerland for awhile and then returned to Russia. She played a great role in introducing psychoanalysis in Russia. During the 1930s, Sabina's husband died and her three brothers were all killed during the Stalin's reign of terror. In 1941, Sabina and her two daughters were also murdered by a German death squad along with thousands of other citizens in Rostov-on-Don.
Contributions to Psychology
Through her long relationship with Jung, Sabina Spielrein had a great effect on both the development of psychoanalysis and the growth of Jung's ideas and techniques. She was the first person to introduce the idea of death instincts, which was a concept that was later adapted by Freud as his own theory. Apart from introducing psychoanalysis to Russia, Sabina also influenced other psychologists such as Melanie Klein and Jean Piaget.
Sabina's full legacy may not yet be fully realized. She wrote 30 psychoanalytic papers in German and French. However, most of them have not yet been translated. Recently, Spielrein has became a subject of many books, films and plays, including A Most Dangerous Method by John Kerr, The Talking Cure by Christopher Hampton, and Sabina Spielrein: The Forgotten Pioneer of Psychoanalysis, which includes extracts from her diary and letters she wrote to Jung.